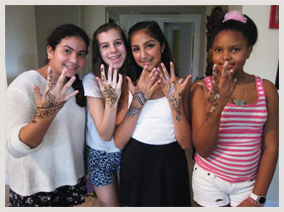 Parties, Events and Personal Appointments at Your Location
Parties and events are $300 for the first 2 hours (2 hour minimum) and then $100 for each additional hour (per artist). One hour is enough for one artist to complete approximately 25 simple designs (2") or 15 medium designs (2x6").
We have 6 talented henna artists available and can accommodate events of any size in South Florida and neighboring places. We are happy to offer discounts for bookings of five or more hours (same day) or two or more artists (same hours).
We are happy to offer on-location henna services for all your body art needs. We do not currently offer appointments or services at our location.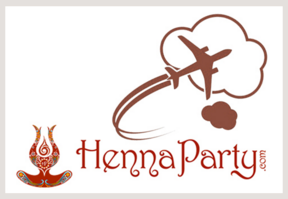 Travel
Though we are happy to travel to you, a travel fee may be required for events at greater distances. For travel in South Florida, events in Broward, Miami Dade and Palm Beach Counties are no charge. We are also available for special events all over Florida and worldwide. For Long Distance and International Travel, the client pays for round trip airfare and all related travel costs including transport to and from Miami or Fort Lauderdale Airport, transport between destination airport and destination hotel and event venue(s), hotel costs and meal costs. Minimum trip length is two nights. Please contact us to discuss your needs.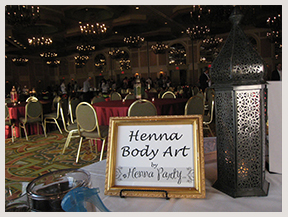 Festivals, Conventions, Fairs, Haflas & Melas
We regularly provide henna services at Fairs, Community Events, Art & Cultural Festivals, Grand Openings, Haflas, Melas, Temple, Mosque and Church events. Most festival type designs range from $7-$20. Following are some of the options we have done in the past:
No booth/table fee. Organizers pay for services directly and provide our henna services to attendees as free entertainment (like face painters, bounce houses, etc.).
No booth/table fee. Organizers pay us directly and use henna booth for revenue. Organizers provide worker to collect money from attendees to offset costs.
No booth/table fee. We charge attendees for henna services directly and pay organizers 10% of gross revenue. 

**

We pay nominal booth fee (no more than $250 for weekend/ must include shelter from elements, tables and chairs). We charge attendees for henna services directly. (We do a limited number of these per year. We must be the only henna booth/table at event and attendance must be in the thousands for us to consider this option). 

**
** The last two options assume that we are the only henna vendor at the event. Because most festivals and fairs cannot profitably support more than one henna vendor, we cannot consider events with multiple henna booths unless we are being paid directly by the organizers.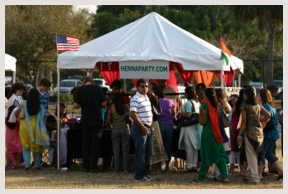 Charity Socials/Non-Profit Fundraisers
We are very happy to help charities and not-for-profits, but we limit the number of charity events we accept, please call to inquire.
Please plan ahead. All reservations require a 50% deposit to hold the date. We will not hold a date without a deposit. Deposits are applied to the final total and are non refundable.