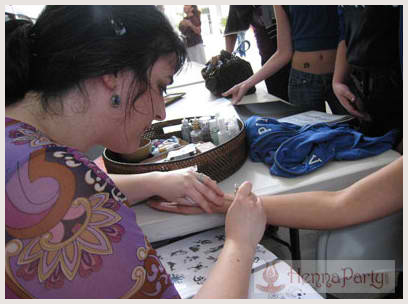 How did you become a Henna Artist?
Our Artists come from a variety of backgrounds and skill sets. Some of us come from Fine Arts backgrounds, while others come from Cosmetic Arts or Cottage Arts backgrounds. Many of us have cultural and family connections to India, Pakistan or the Middle East where henna is commonly used to adorn the skin and celebrate special events. All of HennaParty.com's Artists enjoy the creative process and making people feel special with beautiful henna!
What is henna?
Henna is a plant (lawsonia inermis) with natural tannin dye qualities (like tea) that grows in some arid regions of the world. The paste that we use contains the ground leaves of this plant mixed with lemon juice, essential oils and sugar. Henna has been used as a natural cosmetic for 11,000 years!
How do I prepare for my henna appointment?
Ensure that the body area where the henna will be applied is free from oil or any lotion.
Remove hair/shave in advance. It is important to have smooth skin before your appointment and to not exfoliate or apply any harsh chemicals after your henna. This also applies to mani/pedi. If this is something you regularly do, make sure it is done before your henna appointment. Henna does not like these chemicals.
The henna process could take hours so make sure you wear comfortable clothing. We suggest fitted but stretchy clothing (like yoga clothes). Loose clothing is more likely to brush or smear your henna. Henna is less likely to show on dark or black clothing in the event you get some paste on yourself (it doesn't happen often, but is something to keep in mind).
We will use medical tape for body pieces if you want to put your clothes back on.
How is henna applied?
Henna is applied to clean and dry skin.
Once the henna is dry, it will be coated with a sealant solution or taped with Hypafix (for body pieces). Henna paste should be left for a minimum of 2 to 6 hours. A traditional way that guarantees the best color is to leave henna paste overnight.
Don't smudge the past while it's wet! The paste will usually dry within 20-30 minutes.
Leave the paste on as long as possible, even after it is dry. At least 2 hours. Longer = darker (2-8 hours).
Some henna will flake off naturally. This is ok, but do not wash it! After several hours, remove remaining henna bits with vegetable oil and a paper towel, not water.
The stain will be orange upon removing the henna paste and will darken to brown over the next 24-72 hours. It will fade over the next 1-3 weeks.
To prolong and protect your henna stain, apply a natural water barrier such as Henna Balm (available for purchase) or cocoa butter regularly. Avoid heavily chlorinated water, lotions, chemicals or soaking or scrubbing the area.
Most importantly, Enjoy Your Henna!
Is henna safe for pregnant women?
Natural Henna is widely recognized by the medical community to be safe for pregnant women and is even recommended as an alternative to chemical hair dyes during pregnancy. However, you should always be sure that henna is 100% natural and has no chemical additives whether you intend to use it on hair or body. Henna is a beautiful way to celebrate pregnancy. Because of henna's cooling effects, it is traditionally used on the feet during pregnancy to reduce swelling especially in warm climates. The hennaing of the belly is a modern tradition, but we think it's just as beautiful and meaningful as doing the hands or feet. Henna has a way of being integrated into each culture that it visits and is used for ceremonial purposes across the globe.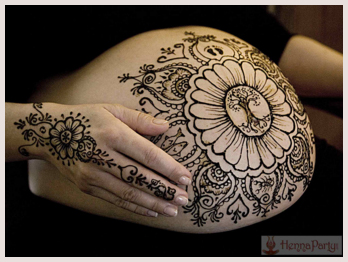 How long does henna last?
It will take 24-72 hours for the stain to reach it's darkest color, then it will begin to fade. How dark it becomes and how long it lasts is determined by several factors; your unique body chemistry (skin PH, hormone levels, thickness of skin), personal habits (steaming, sweating, swimming, washing, exfoliating) all determine how long your henna stain will last. Henna stains the outler layer of skin, so any activity that exfoliates the skin will cause your henna to fade faster. Your henna can last from 4 days to 4 weeks depending on these factors.

Does it show up on darker skin tones?
Henna stains in all types of skin. It stains best on hands and feet but stains fainter to other body parts, or barely noticeable on the face or neck. On darker skin tones, it is best to apply henna on hands and feet for optimal visibility. Other body parts like back and chest may not produce enough contrast.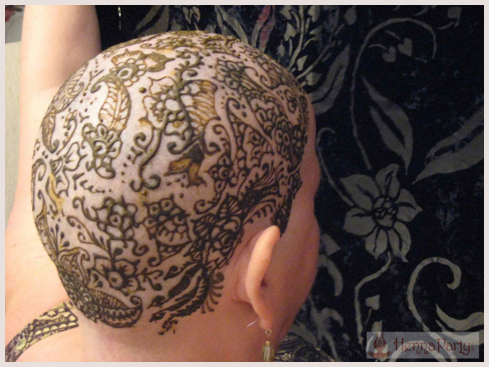 What about henna for chemotherapy patients?
Henna is a fun way to pamper patients during their chemotherapy treatments.
Henna is a good alternative if you do not want to put on an itchy wig or swelter under a woolly hat in the summer. Or maybe you would just like to express yourself with a beautiful henna design for everyone to see.
Henna promotes positive interactions and conversations during a challenging time.
Does Henna come in colors?
Natural Henna produces shades of brown. The shade of color is determined by the region where the henna plant is grown, how well it is processed and stored and how long the paste remains on your skin. Henna does not come in green, blue, bright red, yellow, black or any color other than reddish browns. If it is any color other than brown, it is not Henna and is most likely a toxic chemical.
What is Black henna?
"Black Henna" is actually an inaccurate terminology. Sometimes, the herb Indigo is thought as black henna due to its property to maintain black hair. Indigo is actually a blue dye, which is the same dye that colors jeans. On the other hand, Black Henna is made of Coal Tar Dyes called Paraphenyladiamine or PPD, which is also referred to as "Kali Mehndi" or "Para". Paraphenyladiamine is not safe for the skin and is banned by FDA. It can cause fetal damage, liver damage, blisters, and it is carcinogenic. Black henna is discouraged in tourist destinations like Africa, Thailand, India, Venice Beach, and Mexico. Adding to the confusion, you can actually achieve a nearly black stain on the palms of the hands from natural henna when cared properly. However, the color turns orange over 24 to 48 hours. Natural henna also needs to be left on for a couple of hours to overnight. With "Black Henna", a black stain can be achieved in several minutes. Henna Party never use "colored or black henna", but we do offer a rainbow of cosmetic quality glitter gels, body paints and Swarovski crystals to safely add color and sparkle to your Natural henna!
How do I remove henna?
Doing house work, washing dishes, taking a bath, and doing strenuous activity like swimming or rock-climbing can fade your henna fast. Exposure to household bleaches and detergents also fades it, but you should not apply these kinds of chemicals directly to your skin. The best way to remove henna is by soaking in a bath tub and gently exfoliate your skin using a scrub or loofah. Henna is permanent on nails and hair until they grow out.